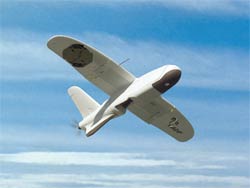 I love seeing big companies move in agile ways (because it's so unusual), even if it only arises from panic of losing their old revenue streams. Here's an example from Lockheed, whose old culture (despite their Skunk Works-style innovation) included bitter internal fights over whether to pursue unmanned aircraft…
…It also designed and delivered the seven-pound Desert Hawk within 127 days of receiving an Air Force request. The total cost for the first six drones and laptop-computer control system was less than $400,000, Mr. Cappuccio says. To date, Lockheed says it has supplied 126 Desert Hawks, which are used for surveillance to protect U.S. bases in Iraq.
When you also produce the most expensive fighter jet in the world, that's certainly overcoming your innovator's dilemma.
Incidentally, here's an article about another group at Lockheed using agile practices.