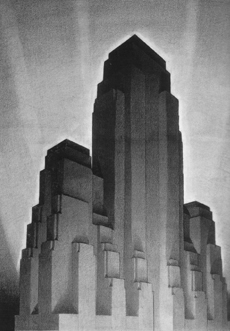 Imagine it is the year 1900 and you own a large corporation needing offices in a major city. You want to construct a building that makes a grand statement of your financial strength and contributes to the civic infrastructure. Currently the highest buildings are about 20 stories, but you are told new construction techniques are capable of building much higher. What would such a structure look and feel like? How much usable office space would there be? Would people want to work that high in the air?
Working within the constraints of new building codes and executives' demands for bigger, more productive office space, Hugh Ferriss issued dramatic depictions of buildings that informed architects and inspired corporations. In his time, these illustrations were radically dramatic, opening the eyes of architects and corporations to the possibilities. Using the raw knowledge of architecture, he created a tangible vision and the visual language to understand the potential of skyscrapers. His style evolved to not only inform but also to elicit emotional reactions.
For a future you can conceive but not quite visualize, how might a film, a simulation, or a prototype business situation change your strategy?