Google vs. Yahoo: Clash of Cultures helpfully contrasts the cultures of both companies and how culture influences future performance….
As the two giants tussle for domination of online advertising dollars, it's increasingly clear that this tug-of-war is really a test of what kind of corporate culture an Internet company needs: Is it a by-the-numbers and increasingly Hollywood-savvy environment like Yahoo's? Or can an intellectual playground like Google continue to grow and thrive even as it approaches $4 billion in annual revenue?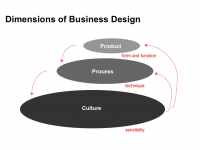 It's hard to agree more with the usefulness of examining the situation through this lens (and express pleasant surprise this sentiment comes from a techie site). An organization's outward displays of innovation and operations are only symptoms of their health; culture is their heart. My business partner John gave a presentation recently making this point, illustrating the back-and-forth change ripple effect between product, process, and culture: Design [is not a] Strategy (.pdf).