Prototypes
There are 3 posts filed in Prototypes (this is page 1 of 1).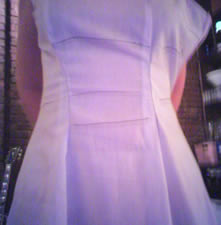 My wife is making a new dress for a party next month. Here's a pic of her prototype. I love that her process resembles the basic design process: considering the desired experience, some research, investing in some materials/tools, building a prototype, testing it, marking it up, re-cutting it, testing it again, and is ready to produce the final version. All that in two evenings.
Maybe next time I do a workshop, instead of staplers we can make clothing. Then wearing the work will be like trigger words, reminding the participants of the rapid prototyping process.
Andy Hertzfeld, of the original Macintosh team, writes about the prototype of Vista: a prototype for OSAF's Networked Personal Information Manager. As a view into a development process that must integrate many different modules into one flexible interface it's a must read.
I'm also glad to see he landed somewhere that has a good chance of releasing a useful product.