IBM Almaden Research Center
Pics from a visit during the 2001 Make IT Easy conference
The Center is nestled in the hills of southern San Jose. The building looks cold and modern on the outside, with its long, black lines. But inside there's a lot of light and the hallways and rooms are airy and comfortable.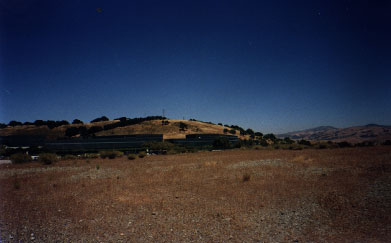 I gained a lot of respect for the company during this visit. They recovered from their slump in the early 90's, have a solid strategy (summed up in one word: 'eBusiness'), are providing great services while doing groundbreaking research, and continue to innovate on many levels, including user-centered design.

On the hills surounding the Center are walking paths. At one point there are these chairs you can sit on and look over the valley. I called them 'resonance chairs' because in the upper portion are strings, just like guitar strings, that vibrate gently in the wind. The acoustic effect is haunting but peaceful. The chairs are also quite large; at 6 feet 3 inches I could still sit and swing my legs, which for me is synonomous with youth. With the resonance in my ears, the sun on my face, and the wind cooling me, this was a wonderful spot to meditate between conference sessions.

This is the view of the valley from the chairs.

Self-portrait sitting on a chair.